Discount Certificate - Terms and Conditions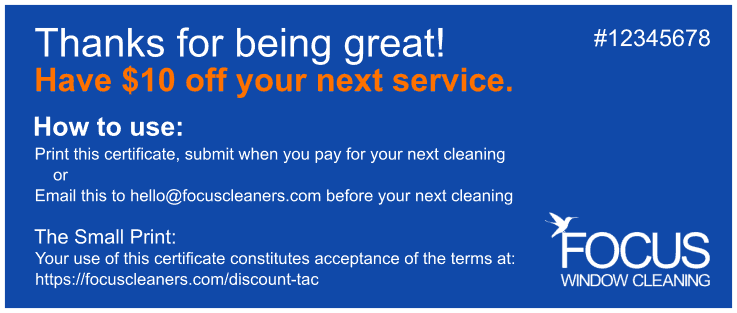 This certificate can be used to receive $10 off your next service.
How to Redeem
You can redeem this certificate in a couple ways:
Print a copy and give it to us before you pay for your service
Email this certificate to hello@focuscleaners.com before your next service
Terms and Conditions
By using this Discount Certificate, you are agreeing to the terms and conditions listed below.
Terms are subject to change by Focus Window Cleaning at any time.
Discount Certificate is not a Gift Certificate, and may not be transferred to anyone else.  The serial number must match your name in our records.
You may use the Discount Certificate on any Focus Window Cleaning service.
Discount Certificates do not expire.
Each certificate may be used one (1) time per serial number.
You may use up to ten (10)  certificates at once.
Discount Certificates may be combined with Referral Certificates to a maximum of ten (10) certificates.
Discount Certificates may be applied to:

Residential and Commercial
Window Cleaning
Home Cleaning
Office Cleaning

Discount Certificates may not be exchanged for cash.