Referral Discount - Terms and Conditions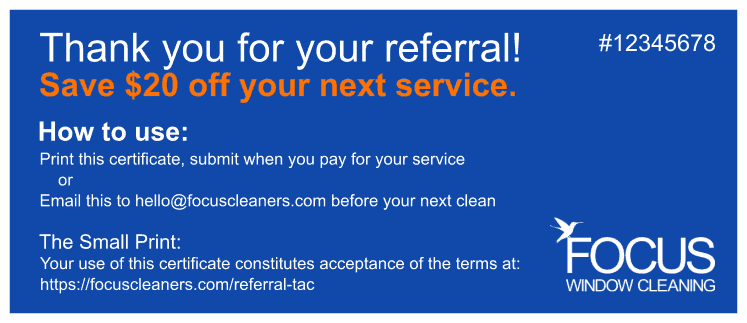 If you've received one or many of these certificates, thank you so much for having enough faith in us to refer us. 
It really helps and we hope this shows you we appreciate it.
How to Get a Referral Discount
Our Referral Discount program is to reward people for referring their friends and family to us.
Here's how it works:
You recommend Focus Window Cleaning to a friend
Your friend books a service (minimum $100) with us and tells us you recommended them
We email you a Referral Discount with a thank you
Or
You recommend a friend to Focus Window Cleaning
You tell us who you recommended
That friend books a service (minimum $100) with us
We email you a Referral Discount with a thank you
You do not need to be a current Focus Window Cleaning client to qualify.  We do need your email to send the Referral Discount.
How to Redeem a Referral Discount
You can redeem this Referral Discount in a couple ways:
Print your Referral Discount and give it to us when you pay
Email your Referral Discount to hello@focuscleaners.com before your next service
Terms and Conditions
By using a Referral Discount, you are agreeing to the terms and conditions listed below.
Terms are subject to change by Focus Window Cleaning at any time.
Referral Discount is not a Gift Certificate, and may not be transferred to anyone else.  The serial number must match your name in our records.
You may use the Referral Discount on any Focus Window Cleaning service over $100.
Referral Discount does not expire.
Each certificate may be used one (1) time per serial number.
You may use up to 10 referral certificates at once.  For example, if you refer 10 new clients to us, you may use up to 10 certificates on your next cleaning, saving you $200.
Referral Discount may be applied to:

Residential and Commercial
Window Cleaning
Home Cleaning
Office Cleaning

Referral Discount may not be exchanged for cash.