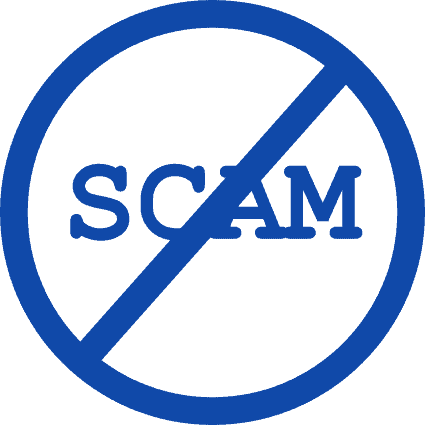 If you aim to avoid contractor scams, it means a little diligence, but will pay off in a large way.
Cassie Williams from CBC wrote about several people who were the victim of the same scam.  A contractor would answer their online requests for quotes, ask for as large of a deposit as possible, cause damage, and leave.
The contractor was caught and charged, but the people he defrauded now have discovery hearings and court dates to attend. Their homes were never fixed, and even if they get a ruling, they may never see their money again. That can leave an innocent victim feeling stupid for giving the most basic part of a human relationship, trust.
Why trust if we want to avoid contractor scams?
It can seem too risky to trust at all. But, without trust, not much happens and our health and happiness suffer.
In a study out of the Netherlands, researchers found that "Participants report fewer health problems when they trust their partner more," "Increased trust in one's partner may therefore decrease feelings of anxiety and depression,"
This is not a new thought:
We need trust, or we get less done and we're unhappy in the process.
This article is about minimizing the risk.
Trust isn't a switch, it's a spectrum

We trust most people to some extent, even those we don't like.  This might sound crazy, but here's what I mean:
If I'm out for a walk, I trust no one is going to take my shoes while I'm walking

I don't trust enough to leave my wallet and keys alone on a park bench
Because there's a spectrum, the discussion changes from if we should trust, to how much?
How to build trust and avoid contractor scams
Building trust in a relationship with a contractor is important. It will reduce your anxiety. That, in turn, will reduce the contractor's anxiety. People who trust one another want to help one another out.
In the article mentioned at the beginning, Sue Labine, who is with the Canadian Anti-Fraud Centre shares this advice to avoid contractor scams:
Google the contractor's name and read reviews from other customers. Don't rely on references supplied by the person you're hiring.
Hire someone who's had dealings with someone you know and trust.
Get multiple estimates. If the price is too good to be true, it probably is.
Be wary of anyone asking for money up front for materials. Instead, purchase the materials for the job yourself.
If a contractor has no history online, that may be a "red flag," said Labine, and could indicate the person or company is changing names to outrun a bad reputation.
Request information in writing.
Always read the fine print.
Take the above items as indicators. Sometimes a company is old school and doesn't have a website, but their reputation is solid.  Sometimes a contractor buys their own materials because they need exactly the right stuff. But I recommend always having agreements in writing and always reading the fine print. Follow your instinct, if something doesn't seem right, pause until it seems right.
Pay attention to how you feel.
If you feel:
Defensive
Rushed
Pressured
Like you have no other options
Put on the spot
Annoyed
Devalued
Put the conversation on hold and think about why you feel this way.  Go to the bathroom, take a phone call, go to a private spot and think about why you're feeling these things.
If it's because the person is acting:
Antagonistic
Annoyed
Rude
Hostile
Disrespectful
There is a problem.  This is them at their best behavior.  Imagine them upset.
Focus Window Cleaning has two goals
To do such a great job we earn your 5-star review
To give you such a great experience, you'll want to tell your friends and family about us
CBC – Contractor facing multiple fraud charges left home in 'atrocious' state – Cassie Williams
A healthy dose of trust: The relationship between interpersonal trust and health – IRIS K. SCHNEIDER, ELLY A. KONIJN, FRANCESCA RIGHETTI, AND CARYL E. RUSBULT – University of Amsterdam, The Netherlands and VU University Amsterdam, The Netherlands